Introducing our new ExpressLane Coupon Books!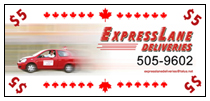 Don't know what to get that special senior in your life that has everything?
Make their life easier….Buy them an ExpressLane Coupon Book, then they can get anything they need from the store, brought straight to their door.
Do you have a friend or relative without transportation? Are they constantly getting you to pick up this or drop off that? Buy each other some freedom.
Buy a book of 10 coupons for the price of $50.00!
On Sale now, just for you….
Call 505-9602 or Available at your Nelson Pharmasave.